Hey everyone!
Since last time we wrote to you, we had some changes in our house.  Our beloved Ana went to a far off land, where trees are thrown for fun, men wear skirts, and people believe in a monster under the lake, instead of a pissing boy! Oh yeah, we also got a new EVSer.
He is a he and his name is David. David came from Austria and is planning to stay 10 months. He arrived on may 30th and well will stay till march 31st.
So, last week Yigit and David had their on-arrival training, some of you may ask yourselfs, "hey, Yigit did not arrive just yet! Why is he doing an on-arrival?", or some of you don't even care, anyway Yigit had his on-arrival training last week, because he missed the first on arrival training this year by almost one month.
Both of the trainings were pretty good. We had a fun week in Merkenveld (which is a friendly scouts place that is 30 minutes far from Bruges center), met some nice people, learned more about EVS, drank lots of good beers. We had very cool trainers also. Open minded and flexible. It helped a lot to express ourselves. In our last day, we made a big camp fire in the woods and danced around it as you can see on the gif below.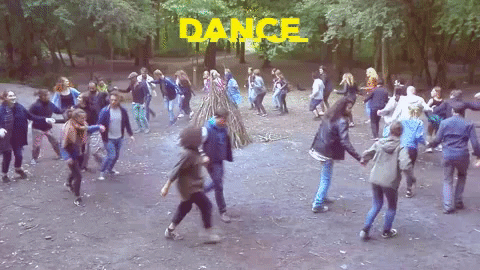 And don't forget about the marshmallows :P Since our training lasted until Saturday 1pm, some of us went to an Irish Pub in center of Bruges and watched Belgium football team destroy Tunusia.
"Thanks to the Eramus+ program we are all able to come together from all over Europe and from further parts of the world to meet, to exchange, to love, to laugh and most importantly to show that it is possible for different nations to live together in a respectful and peaceful way!
This is one of the main ideas of the Erasmus. Get very different people together and teach them and make them teach."
As final words, let us give you a small glimpse about our next blog post; this week we are having our new EVS volunteer Kristina from Ukraine. So next blog post will be about her first impressions. See you.